Prof. Anthea Innes, the director of the Bournemouth University Dementia Institute (BUDI), is planning a dementia lunch as part of the BU Research Theme development. The BU Research Themes were launched almost a year ago at the first of the BU-wide Fusion events. The Themes are society-led, encourage cross-School working and collaboration, and will be the main vehicle through which BU research is presented externally in future.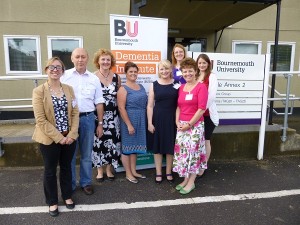 At BU, we are proud of the way in which we demonstrate the fusion of research, education and professional practice, and Bournemouth University Dementia Institute (BUDI) demonstrates the benefits that this collaborative way of thinking can bring to our dementia work in three ways:
By working across schools, it is possible to draw on the strengths of academics with a wide variety of disciplines.
By working with local service providers and engaging with local people, we can strengthen, develop and consolidate links with these key stakeholders.
BUDI will promote the fusion of research, education and practice. Our locally relevant evaluation and research will be combined with international research evidence so that we can develop training courses and other educational activities to inform and shape professional dementia care in the region.
Would you like to get involved in this exciting cross-school initiative? If so, please fill in the form below and we'll sign you up. The lunch is planned for Wednesday, 28 November at La Piccolo in Lansdowne (http://www.lapiccolaitalia.co.uk/) from 1200-1400. Act fast – this is on a first-come-first-served basis and there are only a few spots left!