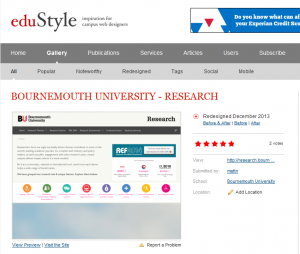 Exciting news – BU's research website, launched in January 2014, has been short listed in the Best Research Website category in the international eduStyle Awards. These celebrate the best work in college and university websites and aim to recognise the most innovative and exciting developments in key areas of HE web development.
Each award is given as both a People's Choice and a Judged Award. People's Choice voting closes this Wednesday (21 January) so please do visit the  eduStyle website and vote for BU! To vote you need to register on the site and then vote on the nominees page (http://www.edustyle.net/awards/2014/nominees.php) using the radio buttons.
BU is the only UK institution to be short listed this year and is up against four other institutions – Yale University, MIT, Columbia University and Biola University.
The winners will be announced on 28 January 2015.