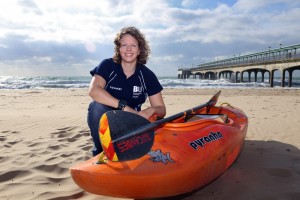 This year's Bournemouth Research Chronicle explores the ways in which our academics are working with students, our local community and with partners abroad.  In the latest edition Shelley Ellis, Lecturer in Performance Analysis, shares her story of working with South Coast Canoes to tackle the problem of adapting sporting equipment to fit women.  Below, Simon Rham, owner of South Coast Canoes explains his company's involvement in the project.
"I first got to know more about this subject after Shelley applied to become a South Coast Canoes Team Paddler. Shelley represents us on and off the water and has helped grow our profile with her coaching and expertise," explains Simon.
"Shelley told me about the subject she was researching and to help her with this we have held talks both at the shop and at a charity paddling event in Devon which we run. These talks were extremely interesting and helped to increase the awareness within the paddling community of what Shelley is trying to achieve.  We've given Shelley access to our social media accounts to help her raise the profile of her research area."
"One of the other ways we've been able to help Shelley is by supporting her to find particular pieces of equipment which she needs for her research.  For example, Shelley was trying to purchase paddle shafts from New Zealand, which have power meters built in.  These are great for measuring performance and are a good tool for Shelley's research."
"She needed some blades to go with the paddle shafts, so I put her in touch with AT Paddles, who are based in the USA.  They kindly sent over some samples for her to use as part of her research.  With this equipment, Shelley has been able to gather more data out on the water to help her better understand how subtle differences in seat height can affect paddling performance.  We will continue to work with Shelley on this as it is an extremely interesting area of research."
To find out more about Shelley's research and her work with South Coast Canoes, take a look at the latest edition of the Bournemouth Research Chronicle.
The 2017 Bournemouth Research Chronicle can be seen in full here.