Taking us into July's PGR Virtual Poster Showcase:
Ogochukwu Ann Ijezie, PhD student in the Faculty of Health & Social Sciences with this poster entitled:
'Quality of life of adults with Down Syndrome: A systematic review.'
Click the poster below to enlarge.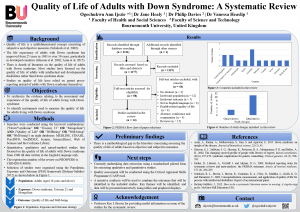 Most research on people with Down Syndrome is in the context of health needs and treatment. There is a dearth of literature focusing upon their quality of life (QoL). The purpose of this review was to synthesize the evidence relating to the assessment and experience of QoL for adults living with Down syndrome and to identify measures of QoL for adults with Down syndrome. Searches were carried out in eight online scientific databases (January 1990 – August 2019) and supplemented with grey literature searches to identify relevant primary studies. This review is registered on PROSPERO (registration number – CRD42019140056). A total of 2112 studies were identified and screened against the inclusion/exclusion criteria. Twelve studies met the inclusion criteria (ten qualitative and two quantitative study designs). The poster will present the findings from this review.
---
If this research has inspired you and you'd like to explore applying for a research degree please visit the postgraduate research web pages or contact our dedicated admissions team.