Posts By /

smsudbury

This is about a co-creation project I did with students through BU's SRA scheme
http://theconversation.com/hunger-by-the-sea-human-stories-of-food-poverty-told-through-animation-101338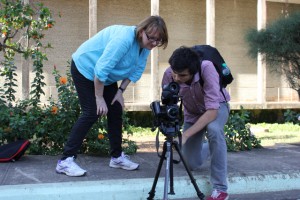 As part of the Fusion Fund Study Leave strand, my company, Sequoia Films, took on ten BU students on broadcast production work experience while at the same time updating my professional practice.
"As a camera specialist in my final year, I was very exited to be selected to take part in this Fusion Project. Having the opportunity to work abroad on an international broadcast project, such as this, was a fantastic experience. Being able to work alongside an industry professional (Sue Sudbury) and see how they operate was fascinating, especially seeing the relationship between filmmaker and contributor, a relationship that I have only ever experienced at a student level. This is something especially useful to me as I hope to work in documentary in the future" –   Oliver Clubb, BA (Hons) Television Production.
A cut from the Indian shoot was then screened to international broadcasters (VPRO, NHK, SVT, NRK, SBS) in June at the Sheffield International Documentary Festival. This is the link to the film – password is space2014 http://vimeo.com/68954605. The actual satellite launch has been delayed so the finished film has been too but you should see it on your screens in 2014 or 2015!
It was great to be back in the industry actually practicing what I teach – producing and directing documentaries. I was asked to sit on London's BVE  EXPO exhibition panel session "Ground-breaking documentaries: techniques for gaining access, dealing with cultural difference and how to approach sensitive subjects to uncover and capture the unknown" – It was great to be on the panel with Jessie Versluys, one of our ex-BATV students, now a BAFTA award winning producer/director, who self-shot Katie My Beautiful Face and most recently, C4's The Murder Workers. We managed to get in a plug for the TV Production degree at Bournemouth! Afterwards, I was able to be on the BU stand at the EXPO so prospective students really saw Fusion in practice with genuine links between academic staff and industry.
The session was chaired by multi BAFTA-winning Brian Woods (MD of True Vision) and this has led to us working together on developing a new project. Will post about this when have more news.