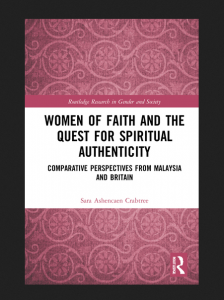 The quest for women's authentic experience of spirituality and faith is a topic of broad and profound social significance. Since the first published, scholarly and excoriating critiques by women theologians in the nineteenth century we have had to rely on men's accounts of what women should and do believe about mortal existence, its meaning and relevance, if any, to the unfathomable cosmos and the mysteries of creation (however the latter is understood). Women's voices on questions of faith continue to be largely unheard across all faith communities, even though, as we know, organised religions, and other faith groups, rely so heavily upon women's support and sheer hard work.
My new Routledge research monograph, Women of Faith and the Quest for Spiritual Authenticity makes its own special contribution to our understanding of these questions, as derived from 59 selected interviews with women in Malaysia and the UK concerning their experiences, beliefs and practices across the faiths of Buddhism, Hinduism, Christianity, Islam, Judaism and diverse Pagan pathways. The accounts are often very personal and detailed in referring to both the micro (individual) and the macro (social) in terms of how faith and gender are negotiated in multicultural societies that struggle with the politics of diversity.
The gestation of this unfunded research monograph in terms of data gathering has felt longer than gestation for a whole family of reproducing female elephants, although time moved from protraction to contraction and acceleration. The Women's Academic Network provided much needed 'space' for me to concentrate on the book proposal, which was accepted in record time owing to enthusiastic reviews. Thereafter, words flew onto the page and the book was completed in less than a year from start to finish, including time off recuperating with Covid-19.
This academic year I road-tested some of these Sociology of Religion ideas in the classroom and found that social science students really enjoyed and related to the discussions. So much for secular, materialistic youth! Furthermore, braced for some pain at the cruel hands of reviewers, given the innovative cross-faith, cross-cultural approach I took, I was astonished and thrilled at the wonderful reviews garnered from eminent scholars in the field, even before the book hit the shelves (later this month).
So, given little in the way of funding and a rather off-piste topic, what led me on? The book seriously began back in 2014 on my precious and hectic study leave in Malaysia busily engaged in a round of international teaching, training and public speaking engagements around Southeast Asia; plus busily gathering data with my co-researcher, for our condensed ethnography on Indigenous communities under ecological threat; plus gathering data for this book as well. It was a wonderful and unforgettable time, crazy of course but incredibly productive and happy.
Back in the UK I was helped by the generosity of so many people of both sexes, across different faith communities locally who introduced me to their circles where I found many women willing to talk to me, teach me and sometimes pray for me too (who says I don't need it?!). This was a very personal journey in all ways and I have many to thank, not forgetting those BU colleagues managing the former Fusion Investment Fund for making my study leave possible!
I am now delighted to see that following the departure of our good friend, Reverend Dr. Bill Merrington, we now have a new woman chaplain, Reverend Ruth Wells. I feel that Ruth's arrival at BU heralds new opportunities to reach out to women across diverse faiths and spiritualties and in so doing we are already planning collaboration to develop a series of public engagement, interfaith seminars. I look forward to working closely with Ruth on a continuing big issue of our time: feminism, faith, diversity and inclusion.