We are delighted to announce that we have successfully retained the HR Excellence in Research Award for a tenth year.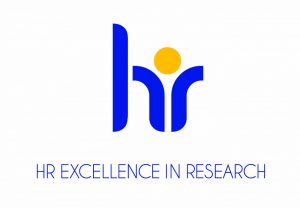 The award demonstrates BU's commitment to aligning process and practice to the UK Concordat to Support the Career Development of Researchers and thereby improving the working conditions and career development for research staff.
It is awarded by Vitae, a global leader in supporting the professional development of researchers, and was retained following an external review.
As part of the review process, institutions need to demonstrate that they have completed a gap analysis of their existing policies and practice against the Concordat, developed a robust action plan for implementation, and taken into account the views of researchers.
Key achievements highlighted in our ten-year submission include providing Bridging Funding to enable research staff on fixed term contracts to remain in post while awaiting the outcome of future funding applications, and creating 12 new research posts within high-performing academic teams as part of the Research Capacity Transformation Scheme.
Research staff at BU can also participate in a range of training and development opportunities through the Research and Knowledge Exchange Development Framework (RKEDF) and can access support through networks including the Early Career Researcher (ECR) Network and the Research Staff Association (RSA).
BU is one of three institutions to retain the award after their 10-year review and one of 87 Vitae UK member institutions with the award.
Professor Mike Silk, Co-Chair of the Research Concordat Steering Group (RCSG) at BU, said:
"We are absolutely delighted to have retained the HR Excellence in Research Award following our 10-year review. The award demonstrates our long-term commitment to supporting the career development of our research staff, developing policies to support researcher development, and providing space to empower our research staff to impact their careers.
"Our research staff are integral to the success of Bournemouth University and I'm particularly pleased with how well the RCSG have worked collaboratively this last couple of years to ensure the voices of our research staff have been at the very centre of our progress towards the award."
He added: "The award not only recognises the progress we have made to date, but provides the impetus for further development in three key areas: our environment and culture, employment conditions, and professional and career development for research staff.
"Our forward-looking action plan will be demanding, but progressing our key actions will ensure we further embed the principles of the research concordat into our processes, procedures, strategic goals and research culture at BU."
Find out more about BU's commitment to the UK Concordat to Support the Career Development of Researchers