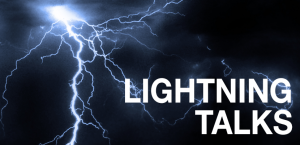 Come and find out about the exciting research undertaken by BU staff and student researchers!
The first of our series of Lightning Talks will take place on Wednesday 11th November 1:45-2:45pm in the Refectory (next to Papa Johns pizza) on Talbot Campus.
We have six speakers presenting a five minute pitch about their research studies. The aim is to encourage staff awareness of the exciting research being undertaken at BU and encourage cross Faculty working.
The spaces are limited so you will need to book on by emailing Rhyannan Hurst. Pizza will be provided on a first come first served basis so please confirm your attendance no later than Friday 6th Nov.
Also if you are keen to take part in the next Lightning Talks in 2016 then please do get in touch with Rhyannan Hurst in the Research and Knowledge Exchange Office (RKEO) on 61511.
We are hoping this will be a great event and look forward to seeing you there.