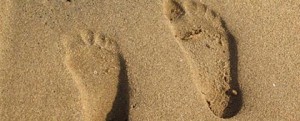 How unique is a human footprint? What is the variability in a person's footprint? How do human footprints vary with body mass?
These are just some of the questions that Professor Matthew Bennett is currently exploring and needs volunteers to help with his research.
He is looking for three types of volunteer:
Any adult – staff or student – who would be prepared to walk barefoot in a tray of sand leaving a dozen footprints and have their weight, height and age recorded. Some of you may remember doing this for a previous experiment back in 2007 and are encouraged to take part again. It takes no more than ten minutes and all the data, including digital scans or your footprints, are stored anonymously and cannot be traced back to you.
Any adult – staff or student – who is prepared to donate about an hour of their time to leave multiple barefoot tracks in the sand tray. We are looking for at least a hundred tracks per individual and this will involve you walking up and down the sand tray multiple times while we scan your tracks.
Any children accompanied by their parents (staff or student) of any age, from those that have just learnt to walk, to those that are approaching 17 years old. Some parents will have already seen that the Talbot Campus Nursery is involved and their children may be participating via that route.
The experiments have full ethical clearance from BU and you will receive full particulars and be asked to sign a consent form for yourself and for your children should they wish to get involved. All the data will be held anonymously and no individual will be identifiable from their data. The data will only be used to generate scientific results and publications.
The Foot Lab will be open to the public as part of the Festival of Learning 2014 on the 9 and 10 June, but the lab is open for BU staff and students from 27 May to 20 June.  It is located on the Talbot Campus in in CAG01a. Email Matthew Bennett to book a time for yourself, a group of colleagues, or for you and your children to come in.
Most times of the day (Monday to Friday) can be accommodated especially if you are bringing in children and may be able to open the Foot Lab for small groups at the weekend. For those studying or working on the campus the Foot Lab will normally open for two slots a day (Monday to Friday) between 10am and 11.30am and again in the afternoon between 3.30pm and 5pm.