Dr Gloria Khamkar from the Faculty of Media and Communication recently conducted a Citizen Journalism workshop in Mumbai, India with the BU Charity Impact funding. Through this funding, Dr Gloria has initiated a collaboration with an Indian charity 'Committed Action for Relief and Education' (CARE); CARE's mission is to bring people, their ideas and knowledge together and provide a platform especially to the underprivileged communities.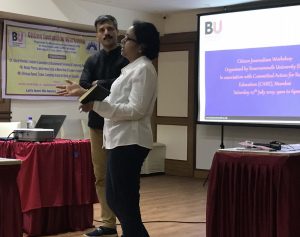 The aim of the workshop was to introduce the budding Social Workers to the basics of citizen journalism for widening community involvement and audience engagement. It is particularly relevant and important in the current changing face of Indian mainstream media, which seems to be occupied covering politics and other topics, than addressing grassroots issues of the ordinary citizens of India.
Total 20 Social Work students and para-professionals participated in the workshop, despite the heavy rains in Mumbai on the day. Dr Gloria Khamkar, the guest speaker & senior journalist Mr Mandar Phanse, and Mr Shrinivas Sawant from CARE contributed in the workshop. After informative sessions, the participants co-created and co-produced citizen journalism audio-visual stories.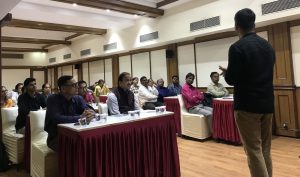 At the end of the workshop, the participants gave feedback on the workshop; they mentioned that they felt confident and would like to explore more about the Citizen Journalism platform. The feedback-evaluation of the workshop done by the participants also demonstrated the continuous need for such educational and professional training activities.
Mr Shrinivas Sawant from CARE expressed a gratitude saying that the students have benefitted immensely out of this workshop. CARE would like to continue this association with Bournemouth University.
This workshop, which was organised through the BU Charity Impact funding, has enabled Dr Gloria in establishing a collaboration with the Indian charity CARE on a long-term basis.