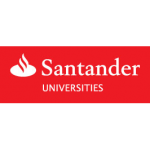 I am delighted to announce that Santander have very generously provided the Graduate School, as part of the fusion fund, a further five £5k scholarships for postgraduate research students (PGRs).
These awards are intended to support PGRs to undertake study, research and/or network activities at a Partner Institution from within the UK Santander Universities Network and/or one of the Overseas Santander Partner Universities.  Awards made will cover only direct costs (travel; subsistence; training or development costs) and all applications will need to include a precise breakdown of costs
To be eligible to apply, applicants must be registered at BU on a postgraduate research degree irrespective of mode of study (full-time / part-time) or funding status (BU studentships / externally funded / self-funded) and must be a national from one of the countries listed within the Santander Scheme.  Please see the Policy document for further details.
Successful applicants will be expected to participate in general PR activities about their research and provide a short report based on the research activity. This may involve attending events and promoting the benefits of the funding. 
For further information, please read the GS Santander Travel Grants – Policy
To apply, please complete the GS Santander Application Form and submit it by email to gsfunding@bournemouth.ac.uk by 5 pm, Monday 1st July  2013.