The 2023 version of BCUR (British Conference for Undergraduate Research) returned to a face to face gathering at University of Warwick in April and held in conjunction with the first WorldCUR based in UK.  Nine BU undergrads took part across all four faculties.  Their research presentations spanned the full spectrum from eg Conservation Efforts to Overall Human Health (Mary-Jane Shirley-Sadler – FST), Investigation into ankle dorsiflexion range of movement in healthy adults (Charlie Sendrowski – HSS), and Microexpressions in Animation (Emma Moisuc – FMC).
Andria Theocharus a film and television studies student in FMC a SURE 2022 winner took part, "Before I went to the event I was very excited, but a bit scared because I did not know if anyone would be interested in my topic. After the event, I felt very rewarded because I learned so much from the presentations but I was also glad it was successful and many people showed interest in it".   Becky McKay a mental health nursing student in HSS presented shared her critical analysis of links between medication, therapy and borderline personality disorder.  "I really enjoyed attending the BCUR event. It is a brilliant opportunity to meet other students and learn about topics from different areas of study. Taking part enabled me to become more confident as a presenter and to raise awareness of my own speciality as an undergraduate mental health nurse".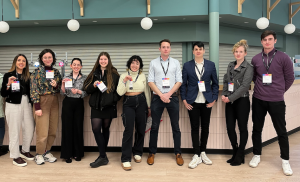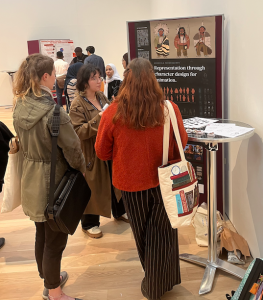 FST Ecology and Wildlife Conservation Student Maisie Broughton was pleased to be able to gain both networking skills and confidence in public speaking, and audience engagement. "It was very exciting presenting and I felt confident in my research having been working on it for such a long time. I had never attended a conference before so was unsure what to expect. Afterwards I felt confident in my research and felt I had made some valuable connections".  Other students presenting included Christine O'Hara of BUBS (An investigation of value of hard and soft skills for project management post pandemic), Nath LeBlanq of HSS (Challenges of Caring for genderqueer patient in a mental health crisis) and Zac Hanlon of FST (Activity levels of captive Humboldt penguins: a comparison of the efficacy of environmental enrichment methods).
BU undergrad participation at BCUR was supported by each of the faculties and coordinated by BCUR Exec member Dr Mary Beth Gouthro.  As part of the themed streams in the programme, Mary Beth was also invited by conference organisers to facilitate a workshop on Sustainability with a broad background of academic delegates from eg Kenya, USA, Malawi, and Germany taking part.  The session produced cross cultural ideas for sustainability management in some areas.  Among the outcomes were the potential for  linking up sustainable practice between eg farming practice and customs regulations in other nations/continents.
BCUR and WorldCUR 2023 at Warwick welcomed over 600 students from all over the UK and internationally.  Keynote speaker Cambridge Professor Sir David Spiegelhalter proved popular among the audience with an informative session on 'Communicating Research to Different Audiences'.  The annual BCUR gathering provides students an opportunity to showcase their academic work to a broader audience allowing for collaboration and further research pursuits.  Any questions on future involvement do contact Dr. Mary Beth Gouthro mgouthro@bournemouth.ac.uk.