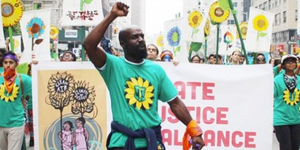 Join us for a discussion on climate change, capitalism and security:
EB202 (Lansdowne Campus)
Friday 3 July
12:30-16:30
Register: https://www.eventbrite.co.uk/e/policing-the-anthropocene-tickets-17149282967
Sea levels rise, droughts, floods and superstorms destroy livelihoods and force migration. Entrenched in militarised security cultures, nature is rendered unstable, a risk, a threat to be mitigated and controlled. And those people, displaced and disenfranchised, are deemed by security discourses as byproducts. They too must be managed, subdued, contained. It is no longer only the boundless threat of terrorism that fuels xenophobic pursuits of absolute security, now too, the climate is coming. As hybrid, state-private security partnerships enter ever more profitable deals to secure borders, investment firms are busy weatherproofing the rich, and protest against the corporate purveyors of climate change continues to be violently cracked down. This workshop considers the contours of Policing the Anthropocene, interrogating the cross-sections of climate, capitalism and security.
With:
Dr Nafeez Ahmed Institute for Policy Research & Development
Dr Anja Kanngieser AUSCCER/ Department of Geography, University of Wollongong
Dr Steve Wright Politics and Applied Global Ethics, Leeds Beckett University