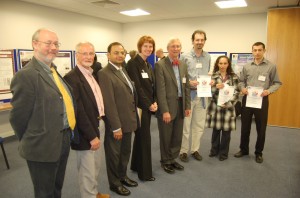 Post Graduate Researcher Poster Events
At School level we will shortly be holding a Post Graduate Poster event on the 18th May. This was an initiative that started five years ago following a suggestion from a PGR student representative. Various poster events are organised specifically for PGR only participation, at national level such as the young engineer of the year competition at the Houses of Parliament, at university level organised by the Graduate School and at academic group level such as the new Psychology event. It is worth thinking about these activities and the value to the academic community at various levels.
Our PGR poster event is organised with the help of a small number of staff but the main decision making regarding the format of the event is driven by the PGR community itself. The posters compete for a small cash prize within year groups and are judged externally by invited high-profile industrialists and academics. Participation level has been high during the four events to date and the event ownership for the participating PGR's has been maintained. External participation to judge the posters has been appreciated by the PGR's as the economic and practical benefits of research are seen as valued. In addition, the enthusiasm for the research projects from the external competition panel act as a real motivation to students and supervisors. Our key values that keep the poster conference successful are retaining the PRG ownership concerning format and external engagement via the competition judgment of the posters.
Prof Mark Hadfield
Deputy Dean – Research and Enterprise
School of Design, Engineering and Computing