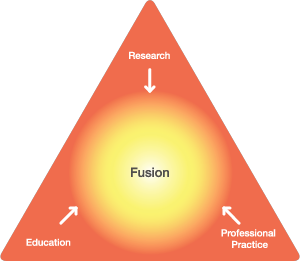 I am delighted today to launch the Fusion Investment Fund which, at c. £3m per annum for the first three years, represents the significant investment that BU is making in the development of staff and students, and the embedding of the Fusion philosophy.
At the heart of the BU2018 strategy is the powerful fusion of research, education and professional practice, creating a unique academic experience where the sum is greater than the component parts. Fusion is the key concept which underlies the BU2018 strategy and its delivery is critical to the University's future mission. As a founding concept Fusion will allow the organisation to achieve its ambition of transforming the academic footprint of BU while remaining a similar academic size. It is the key academic strategy and central to the culture at BU. In essence Fusion is the combination of inspirational teaching, world-class research and the latest thinking in the professions which creates a continuous and fruitful exchange of knowledge that stimulates new ideas, learning and thought leadership.
The Fund exists to support a range of practical initiatives and pump prime activity around Fusion. Launched today are three of the funding strands available to BU staff:
Co-creation and co-production

– this strand provides grants focused on supporting activity that drives fusion with specific emphasis on research and/or professional practice. The budget in 2012-13 for this strand is £400k and individual grants awarded will be between £10k and £75k each.

Study leave

– this strand provides up to 50 opportunities per annum for paid study leave for staff to engage in business/industry secondments, international staff exchange, pedagogic development, and/or research practice. The grants are designed to buy individuals out of one semester/term of teaching and provide support for either overseas travel and subsistence or for expenditure associated with distance working within the UK. It is intended that these awards will be made primarily for study from BU rather than simply to provide staff with teaching relief.  Note that exceptionally awards may also be made to support incoming staff visiting BU who will material enhance Fusion or the development of international or business development.  In this case the BU sponsor should make the application for funding before any invitation is extended. The budget in 2012-13 for this strand is £750k and individual grants awarded will be up to £15k.

Staff mobility and networking

– this strand provides support for staff to support UK or overseas travel and subsistence in pursuit of any aspect of Fusion – research, education, and/or professional practice. The budget in 2012-13 for this strand is £200k and individual grants awarded will be between £5k and £10k each.
These funding streams are in addition to the other Fusion Investment Fund initiatives already launched – the 100 annual doctoral opportunities advertised earlier this year and the Grants Academy that was launched last month. The other initiatives that form part of the Fund (such as the Student Mobility grants) will be announced in August 2012.

Strand Committees: Each strand will be managed by a small committee responsible for running and monitoring the allocation process – call, review, allocation and reporting. They also have responsibility for developing detailed application criteria as appropriate and developing FAQs. Committee members will usually serve for between two and five years and are not excluded from applying for funding via the strands.
We are now seeking to appoint committee members. If you would like to serve on one of the committees then please self-nominate via email to me (cc'd to Julie Northam) to express an interest by 27 April 2012.
For each committee we are seeking two Professors and two Senior Lecturers/Lecturers. You will need to confirm in the email which of the three strands you would like to be considered for. This is a prestigious opportunity to be involved in supporting colleagues and the University to meet the BU2018 aims and I look forward to receiving your nomination emails.
Applying to the strands: The first deadline for these strands is 1 July 2012, for awards in 2012-13; there will be subsequent deadlines later in the academic year for the mobility and co-creation/production strands. Applications to the Fund are made via one standard application form. Further information about the Fusion Investment Fund will be available shortly from the new Staff Portal when it is launch later this month. In the meantime you can access further details via the Research Blog: http://blogs.bournemouth.ac.uk/research/fusion/fusion-investment-fund/.