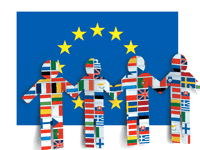 You may remember I recently  published a blog post on Partnering in Research and Innovation which laid out the EC's plans for how to improve partnering across Europe for research in Horizon 2020. This was particularly relevant for BU as topics included are Active and Healthy Ageing. The EC has recently updated its European Innovation Partnerships website and has added a FAQ section. The website now has a separate section on each of the three EIPs:
The EIP on Active and Healthy Ageing was the first Partnership to be set up, and there are several pilot calls currently open under different programmes for projects in support of its Strategic Implementation Plan (please see the "Funding" section of the EIP Active and Healthy Ageing part of the website).
The FAQs contain questions and answers on topics such as:
the role of the Strategic Implementation Plan for an EIP;
how funding will be provided for Strategic Implementation Plans;
the timing for possible new EIPs;
the role of the Steering Group and Action Groups for the Active and Healthy Ageing EIP; and
the role envisaged for EIPs in implementing Horizon
I would recommend taking 10 mins out of your day to check out oen of the EIP websites if the areas are relevant for you.