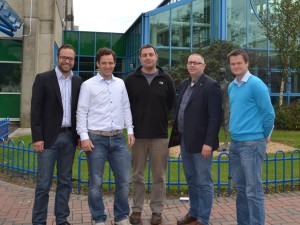 Bournemouth University's School of Tourism has recently signed three Erasmus agreements with three Universities in Europe to enhance international links to high quality international research and teaching institutions, especially in the area of sport business and events management.
To celebrate this recent agreement Dr Tim Breitbarth (Senior Lecturer in Sport Management) organised various guest lectures, presentations to staff and students as well as informal opportunities to meet and mingle as part of an International Week in Sport and Events Management.
Professor Dr Sebastian Kaiser, a professor in sport and events at the SRH Hochschule Heidelberg; Dr Stefan Walzel a senior lecturer at the German Sport University Cologne, Institute of Sport Economics and Sport Management; and Gerco Van Dalfsen, a program coordinator sport management at Hanze University of Applied Sciences in Groningen and Secretary General of the European Association of Sport Management all took part in international week and also represented their university.
On Wednesday Sebastian, Stefan and Gerco hosted a presentation as part of the School of Tourism Staff Development. A substantial number of colleagues from across School of Tourism, research students and university managers concerned with international development attended the session.
Dr Richard Shipway (Associate Dean International Engagement) framed the presentations by mentioning relevant aspects of BU's strategy to create more and higher quality international opportunities for staff and students.
Gerco, Stefan, Sebastian each presented their respective universities and provided an overview of their study programmes. In particular, they showed how they integrate international student exchange, international competitions and workshops into their programs in order to enhance student abilities and networking. School of Tourism staff were, for example, impressed by the vast and modern sport and scientific infrastructure of the German Sport University Cologne, and the strong international and multidisciplinary focus of sport, events and health programmes at Hanze University. The presentations and opportunities to cooperate led to lively conversations and concrete projects/ideas to follow-up.
The second part of the Lecture on Wednesday saw Stefan and Sebastian present some of their high quality research. :
Stefan provided insights into the discussions around relevance and impacts of the Youth Olympics and the organisation of the first summer and winter Youth Olympics. The particular focus of his empirical investigation was on the use of ambush marketing despite clean venues and no commercial sponsorship allowed at the games. German Sport University Cologne also very successfully integrated student visits and volunteering at the games with both international teaching and study opportunities.
Sebastian outlined similarities and peculiarities of events management in sports and culture from socioeconomic theory. In his empirical study he explores the impact of the economic sectors by utilising regression analysis of a dataset from surveys amongst managers within the industry. His major conclusion was that events management may benefit not only from a dialogue between science and practice but particularly from an interdisciplinary perspective integrating theories and approaches from sports and culture management.
On Friday, Sebastian and Stefan helped kick off the weekly Research Seminar Series for, mainly, sport science and sport management students. Around 100 students attended and Dr Ian Jones (Associate Dean Sport) pointed out that those regular seminars are to widen student's horizon and an opportunity to engage with relevant topics that may be beyond their core areas of interest.
The presentations from the international visitors provided the students with a glimpse of how/what their peers in other countries are taught;  an important experience since those universities no longer educate their students for national markets but acknowledge that they have to compete on an international labour market after graduation.
Stefan's presentation introduced the students to the link between psychological, behavioural and economic dimensions behind corporate hospitality activities at sport events. Whereas the main conclusion from Sebastian's presentation was that there are different ways to calculate the possible impacts of events based on the same numbers.
Students were invited to mingle with the presenters and amongst each other afterwards in Dylan's Bar and a few students used this opportunity to discuss particular aspects of the respective topics in special and the international sport management in general.
Students that attended the Lectures and Seminars were given the opportunity to win quality merchandise from the new partner universities.
All three of the visiting Lecturers were in Bournemouth for 5 days and were very impressed with the Bournemouth University campus and its facilities, especially our eLearning opportunities / environment.
For further information about the International Week or our new Erasmus partner universities please contact Dr Tim Breitbarth on tbreitbarth@bournemouth.ac.uk or 01202 965113.