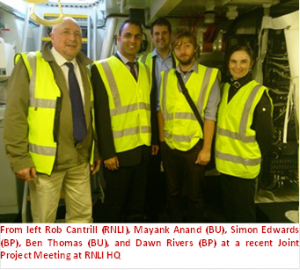 Mayank Anand a Post-Graduate Research Student at School of Design, Engineering & Computing, BU has been selected by the Parliamentary and Scientific Committee to present his research work to the Members of both Houses of Parliament at Westminster during National Science and Engineering week. In the current research, Mayank is working with the Royal National Lifeboat Institution (RNLI), Head Quartered at Poole, Dorset. The project involves examining the real-time quality of lubricants used in lifeboats of RNLI. This is an industry based PhD in which he spent part of the time at the RNLI HQ working closely with engineering team. The research is also in-kind supported by BP Technology Centre, Pangbourne U.K.
Mayank said, "I see this upcoming event as a great opportunity for an early-stage researcher like me, where one can showcase his/her work and ideas alongside getting invaluable feedback from the judges. Networking will be an added bonus". He added "the support from the supervisory team at university including Prof Mark Hadfield, Dr Ben Thomas, Sustainable Design Research Team, and the RNLI has been a key in producing good research outputs and gaining confidence to present to a wider mass".
At the event, Mayank will also be competing against 60 other participants within Engineering and Science session for the prestigious Engineering Medal and 180 others for Westminster Medal for the overall winner as a part of National Competition.