Fresher's week for midwifery students started with a hard copy photograph. The image had to depict themselves and what midwifery meant to them.  This was used as an ice-breaker for the very first session and students had five minutes to share their photo with the person next to them, before that person fed back to the group the student's name, and how the photo depicted their commitment to midwifery.  The students were wonderfully creative and inventive. Many had accessed the 6 C's and based their image around the values of care, compassion,  commitment and communication, all important attributes that midwives bring to the profession. Some photographs depicted the students with midwifery related objects such as stethoscopes, pinards, and fob watches, whilst others were shown working with children/adults and one even washing an elephant on an international placement! All shared a common theme, enabling and facilitating others.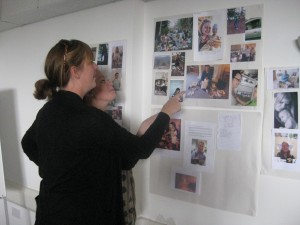 As an ice-breaker it worked particularly well as the room hummed with animated conversation, but there was a secondary purpose to the activity. It was also a  'dummy' run to see if it would work as an interview activity for the forthcoming 2013-2014 selection days for under-graduate pre-registration midwifery students. The interview process to select new students consists of a number of activities, one of which was a team activity. In previous years students were asked to participate in fictionalized scenarios, which consisted of survival on a lifeboat with limited provisions, being stranded in a forest in the snow after a plane crash and latterly a 'real life dilemma' based around prioritizing staff requests for holidays in August or having Xmas and New Year off.  Students had to work as a team and after a twenty minute discussion agree on priorities relating to the particular scenario. These activities enabled the interviewers to see which prospective students were team players, which students actively contributed and whether anybody in particular dominated proceedings. During the 1:1 interview which followed, students were asked about how they felt they had contributed. It was interesting to compare interviewer gradings with the student's own insight into their participation.
This year the current admissions tutors were keen to try something new – hence the photograph activity.  Prospective candidates will be asked to bring along a photograph to their interview and will have been directed to draw links to one of the identified 6 C's and to articulate it during their presentation. Each candidate will be partnered with one other during the activity and then asked to feedback each others' thoughts to the whole group. Interviewers will score the candidates on the following: Communication (verbal & non verbal), how the particular 'C ' was verbalized, creativity of the photograph, listening skills and how the role of the midwife is identified. Ultimately as the activity will be time restricted it is hoped that the candidates will be able, through their photographs to summarize, with reference to the 6 C's, the values and attributes of a midwife. 
If anybody is interested to know more about the process, please contact Midwifery Admission tutors on the West campus: Susan Mant on smant@bournemouth.ac.uk, and Sarah Emberley on semberley@bournemouth.ac.uk and on the East Campus: Jan Stosiek on jstosiek@bournemouth.ac.uk and Jane Fry on jfry@bournemouth.ac.uk.