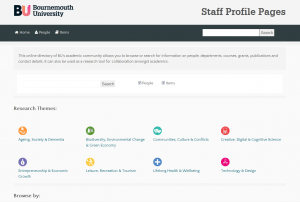 The staff profile pages are being updated to tweak a few things such as changes to research themes, viewing and scrolling on mobile devices, ensuring photos don't overlap with index, adding a few icons, to name but a few. 
This will take place from 4pm on Tuesday (22nd) until 8.15am on Wednesday.  It will mean that any content put into BRIAN will not update overnight.  The 'refresh now' button on the profile pages will also be disabled at this time.  The profile pages will be refreshed after 8am on Wednesday with any content that you've added to BRIAN.
There is still an outstanding issue with some links to BURO not working but this will be resolved in due course.
Thanks for your patience.