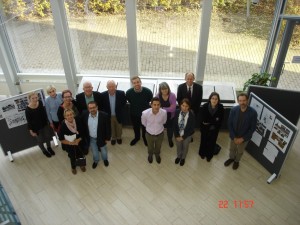 I have just benefited from an Erasmus mobility grant, allowing me to visit Aalborg University in Copenhagen.
The MENU (Meal Science & Public Health Nutrition) Research Group at Aalborg investigates everyday food and meal consumption, whether by individuals, communities or within wider populations. A particular research focus for MENU is addressing meals especially the environment of eating and public health nutrition.
As a group of researchers within this field The Foodservice and Applied Nutrition Research group in the School of Tourism at BU and MENU at Aalborg are a close community, where we can learn from each other and with each other to enhance both the student experience and the global research agendas within this field of expertise. 
I gave several lectures to Masters students and in addition, I gave a faculty lecture on 'Publishing', sharing with the audience my experience as Editor of Perspectives in Public Health.
It was interesting to see the facilities for food research at Aalborg and how these enhance the student experience. The research team MENU have invested in a FoodScape Lab (a living laboratory). This brand new installation allows a combination of  visual IT aided data collection (using NOLDUS FaceREader ® and Observer XT ®) with compatible food intake measurements from METTLER TOLEDO scales ®.  The visit to Aalborg also allowed me to collaborate with colleagues on a RISE bid, FoodSMART, which we will submit to Horizon 2020 and to discuss Aalborg hosting the International Conference on Culinary Arts and Sciences (ICCAS) 2017 of which I am chair.
So a very busy week but fruitful and inspirational and a funding scheme that I can highly recommend.