The Mobile Apps in Research Summit is the first event in the country to bring together developers, funding bodies and academics to examine the use of mobile apps in research.  This event will take place on the 4th December at the University of Birmingham and costs £15 (the programme and registration site can be found here).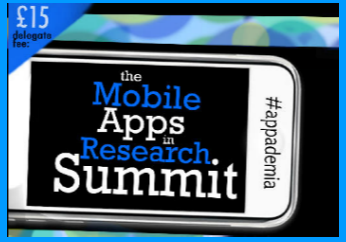 It will feature apps from universities from all over the UK, case studies, demos and discussions focusing on mobile apps for academic data gathering and mobile apps as products of research, both as tools for professionals and for public engagement.
Speakers are also being invited from institutions and companies across the UK, and representatives from funding bodies will attend, including research councils.
Registration also includes a lunch, refreshments and access to sessions. Please ensure that you print your booking confirmation email and bring it along with you to the registration counter on the day of the event.
If you have a disability, specific access requirements or any special dietary requirements please contact Samuel Harrup Walter by email to s.h.walter@bham.ac.uk immediately after booking.