This edited footage was not obtained from an aquarium but from rocks near Bournemouth Pier in Poole Bay during the summer of 2013. GoPro cameras attached to a weighted framework were deployed to depths of between 3-8m. Fish and invertebrates are attracted to bait fixed to a pole extended in front of the camera – a technique known as Baited Remote Underwater Video (BRUV). The method is particularly suited to areas where conventional traps or mobile nets are excluded, such as in protected areas or where obstacles create hazards for SCUBA divers. The data collected will be compared with video obtained from Boscombe Artificial Surf Reef and other sites within the Bay.
How many species can you identify?
This research carried out by Bournemouth University is supported by the Esmée Fairbairn Foundation.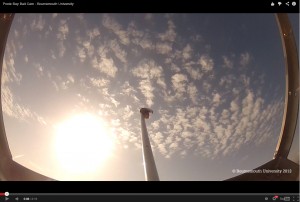 Watch in 1080p HD for best results.
Find more over on the Poole & Purbeck Portal.