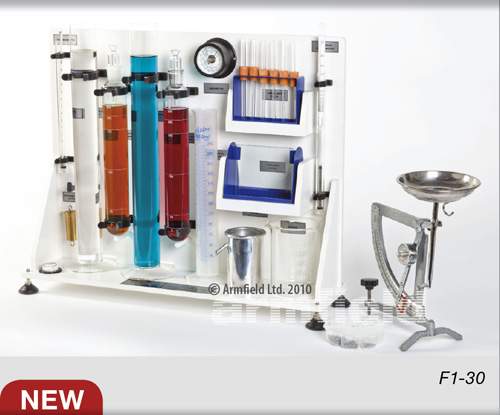 SDRC has added a new fluid property research and education resource to its experimental lab. This resource will be deployed in the current on-going research in renewable technology and coupled with the MEng/BEng Level I thermodynamics & heat transfer unit. This will provide opportunity to realise BU Fusion initiative through research informed education.
Description
The F1-30 Fluid Property Apparatus is part of the Engineering Teaching & Research Equipment in SDRC. It consists of a collection of components that demonstrate individual fluid properties:
Density and relative density (specific gravity)
Viscosity
Capillarity – capillary elevation between flat plates and in circular tubes
Buoyancy (Archimedes principle)
Atmospheric pressure
For education purpose, it can introduce students a clear understanding about the physical properties of fluids that can build the foundation for them to study the behaviour of fluids in static or dynamic applications.
For research purpose, it allows bench tests to be performed for measuring physical properties of fluids from a wide range of applications.
Measuring Capabilities
Measuring fluid density and relative density (specific gravity) of a liquid using a universal hydrometer
Measuring fluid viscosity using a falling sphere viscometer
Measuring fluid density and relative density (specific gravity) of a liquid using a pycnometer (density bottle)
Observing the effect of capillary elevation between flat plates
Measuring the effect of capillary elevation inside capillary tubes
Verifying Archimedes principle using a brass bucket & cylinder with a lever balance
Measuring atmospheric pressure using an aneroid barometer
If you would like to know more about the research and education activities within the SDRC themes please contact
Dr Zulfiqar Khan (Associate Professor)
Email: zkhan@bournemouth.ac.uk