Pratik Adhikary spoke about his Ph.D. research at the American Canadian Conference for Academic Disciplines (Toronto: 19-22 May 2014).  Pratik presented the key findings from his thesis under the title 'Health status and health risks to Nepalese migrant workers in the Middle East and Malaysia'.
Pratik is originally from Nepal and he conducted his research with male migrant workers who were returning to Nepal for definite or for a holiday/break.  He is supervised by Dr. Steve Keen and Prof. Edwin van Teijlingen both in HSC.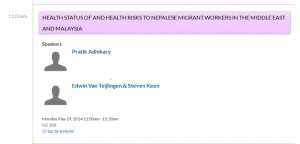 Pratik's study has been supported by Bournemouth University, the PGR Development Fund and the Open Society Foundations.
Edwin van Teijlingen
CMMPH