The third edition of the enduring public relations text, Evaluating Public Relations, has been published by Kogan Page. Much revised by authors Professor Tom Watson (Media School) and former lecturer Paul Noble, the book has greater emphasis on the measurement of social media and concepts of value created by that communication.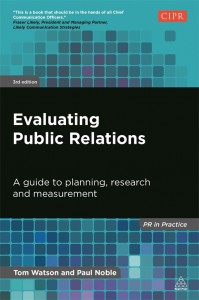 "When the first edition of Evaluating Public Relations came out in 2005, it mostly dealt with the measurement of media relations activity", Professor Watson said. "In it, we included a chapter on how to measure PR-influenced coverage on a no- or low-cost basis. An updated version is included in the latest edition.
"But the world of PR practice has moved on and so the book includes the measurement and evaluation of social media, more focus on outcomes rather than outputs, and advice to meet increasing demands that PR/communication delivers value to the organisation."
Professor Watson said that the new edition calls for PR/communication practitioners to take "a big step forward in the planning and strategy-setting processes."
"Not only should communication objectives align with organisational objectives, but practitioners must ensure that communication is part of the organisation or client's own objectives."
The third edition includes new and revised chapters based on Professor Watson's research into the history of PR measurement and his work, with Professor Ansgar Zerfass of Leipzig University, on methods of performance management in PR/communications.