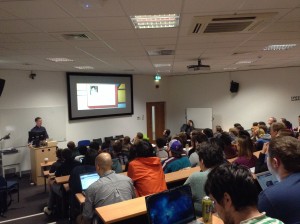 Yesterday, we held the first of this academic year's cyber security seminars.  We hosted Dr John Lyle from Facebook, who spoke to a packed audience in the Barnes Lecture Theatre about some of the challenges fighting spam at Facebook.  After his talk, John described how impressed he was with some of the thought provoking questions raised by audience.
Our next seminar will be on Tuesday, 25th November and will be delivered by Dr Andrea Atzeni from the Computer and Network Security group at Politecnico di Torino.  Andrea will be visiting us that week as part of our Fusion funded Bournemouth European Network in Interdisciplinary Cyber Security (BENICS) project.  Watch this space for more details about  Andrea's talk.
Our interdisciplinary seminar series on Cyber Security is a wonderful opportunity to hear interesting, thought-provoking talks on a variety of topics related to security and privacy.  Although some of these speakers will be academic, their talks will be approachable and require nothing more than a general interest in security, and an enquiring mind.  We're also interested in ideas about possible speakers or seminar topics, so please get in touch if you have any suggestions.