The Bournemouth University and Poole Hospital research team who developed a medical device to make epidurals safer and more effective, were celebrating being shortlisted for the THE Awards 2014 in London last night.
The project was nominated for Outstanding ICT initiative of the Year and – although pipped to the post by the Open University – being shortlisted for an award of this calibre is an incredible achievement and honour.
BU's Pro Vice-Chancellor for Research and Innovation Professor John Fletcher was at the ceremony. He said: "Congratulations to the NHS-BU team for being shortlisted. We were very worthy contestants.  I felt privileged and proud to share the evening with such a successful team."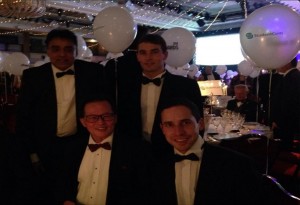 The clinical project was initially proposed by the senior consultant anesthetist at Poole Hospital, Professor Mike Wee. The device was developed by Dr Neil Vaughan for his PhD, supervised by Professor Wee and Dr Venky Dubey. Dr Richard Isaacs – now at Southampton General Hospital – was also part of the research team. All four, pictured here, were at the awards ceremony, along with colleagues from across the university who have supported this innovative and important project.
Comedian Jack Dee hosted proceedings, sharing his unique and entertaining take on the Higher Education sector!
A full list of categories and winners can be viewed on the THE website. The event organisers also took over £9000 in donations for the Institute of International Education's 'Scholar Rescue Fund'; a charity that has led global efforts to rescue threatened scholars and students.
Congratulations to all nominees and winners and thank you to THE for such organising such a fabulous evening!
Image: (Top left clockwise) Dr Venky Dubey, Dr Neil Vaughan, Dr Richard Isaacs, Professor Mike Wee.