Following on from the success of the 'Science Stands' last week on the 4th December, the second run of this on the 9th December in the atrium had a lot to live up too. We had a huge number of students who were excited to engage with some of our PhD students and academics research, proving to be another succesful day.
Yesterday we had some amazing work showcased on TV screens by cyber-security which students could not get enough of, a really eye catching display on the TV screens streaming a live hacking attack map across the globe!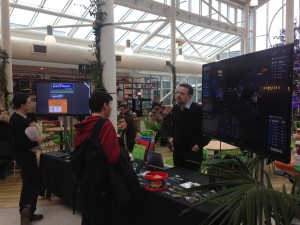 The psychological activities really did prove to be fun and humorous, taste testing tasks and psychological reasoning tasks showed to be a very great experience, seeing the shock on students faces when they were told that the juice they were drinking was in fact a simple cup of apple juice rather than the 101 different flavours they told us it was!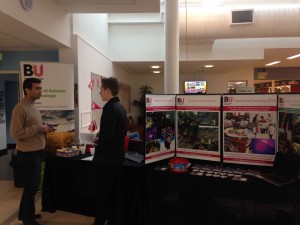 If you didn't drop by on the 4th or 9th December, then do not panic! On the 16th and 17th March we are bringing BU's 'Science Tent' to the courtyard which will be another opportunity to participate in some of the tasks seen at the 'Science Stands' and more that you regrettably missed out on, so get your fluffy wig and long white jacket at the ready, because March is going to be a big one!
If you gained some inspiration from these activities hosted yesterday, then why not run your own public engagement activity? The deadline to submit an event at next year's Festival of Learning is coming up on the 19th December so make sure you do not miss out on this fabulous opportunity.