BU Ph.D. student and Consultant Midwife Kathryn Gutteridge and Hannah Dahlen Associate Professor of Midwifery at the University of Western Sydney contributed a chapter to the book 'The Roar behind the Silence: Why kindness, compassion and respect matter in maternity care'.  Kathryn Gutteridge and Hannah Dahlen wrote under the title 'Stop the fear and embrace birth'.  BU's Dr. Jenny Hall also wrote a chapter called 'Spirituality, compassion and maternity care'.
The  volume edited by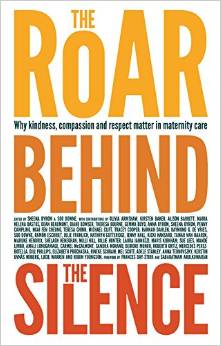 Sheena Byrom and Soo Downe was published this week by Pinter & Martin (London).   I received my copy of the book yesterday, but didn't have a chance to look at it until today.  The Roar Behind the Silence is both a practical and inspirational book, which likely to be of interest to people working in maternity care (midwives, doctors, managers), local and regional maternity-care policy-makers as well as politicians and funders and, of course, to many pregnant women and maternity-care pressure groups.  The book highlights examples of good practice, and offers practical tools for making change happen, advice on how to use evidence and real-life stories.
Prof. Edwin van Teijlingen
CMMPH