This week sees the publication of a new book co-edited by BU Professor Edwin van Teijlingen.  The book The Dynamics of Health in Nepal is published for Social Science Baha by Himal Books in Nepal.  The lead editor Dr. Sharada Prasad Wasti was awarded his MSc from the University of Aberdeen and his PhD from the University of Sheffield.  The second editor, Padam Simkhada is Professor of International health at Liverpool John Moores University as well as Visiting Faculty in BU's Faculty of Health & Social Sciences.
This edited volume has 13 chapters written on various health-related topics that are topical in Nepal.  Many of the authors are from Nepal who completed their postgraduate studies at a UK university.   The chapters cover amongst other topics such as Maternity Care, Health of the Elderly, Road Traffic Accidents, HIV/AIDS and Non-Communicable Diseases.  The book will be formally launched in a hotel in Kathmandu on the morning of Sunday 11th January.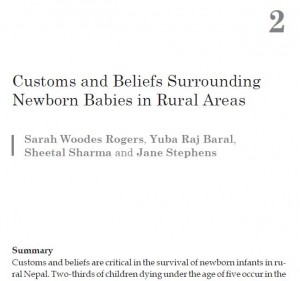 The book also includes a chapter by BU PhD student Sheetal Sharma.  She co-authored the chapter 'Customs and believes surrounding newborn babies in rural areas'.  One of her collaborator was a PhD student registered at the University of Aberdeen and another at London Metropolitan University, whilst third collaborator is the founder of Green Tara Trust, a UK-based Buddhist charity.
Copies of the book are for sale from Himal Books in Kathmandu and all profits from the book will be donated to Green Tara Nepal.
Prof. Edwin van Teijlingen
Centre for Midwifery, Maternal & Perinatal Health
Faculty of Health & Social Sciences,  Bournemouth University