Is memory of war and violence in divided societies an obstacle to, or a pre-requisite for, peace-making? What are the commonalities and differences in the ways in which such memory is socially constructed and culturally expressed? What are its psycho-social functions and political transformations? What messages are communicated, and how?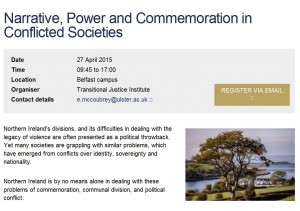 Dr. Stephanie Schwandner-Sievers, social anthropologist in the department of Sociology and Social Work (HSS), recently presented her research findings on these questions, based on fieldwork in Kosovo, at an international conference on Narrative, Power and Commemoration in Conflicted Societies in Belfast. Hosted by the Transitional Justice Institute of Ulster University (which, incidentally, had the highest score for impact in the Law UoA in the last REF exercise), this conference assembled and compared international case studies with the case immediately at our doorsteps, Northern Ireland.
For the full conference programme, click here!  Her presentation, titled Statues and  statutes – nationalist versus multi-ethnic enshrinements in Kosovo after the 1999 war – juxtaposed local identifications with ideas of ethno-national, militant resistance as embodied in the material culture of commemorative sites in contemporary Kosovo (the 'statues') to the constitutionally enshrined paradigm of multi-ethnicity (the 'statutes') integral to the internationally-driven, peace- and state-building process in Kosovo after the war.  However, rather than constructing a simple dichotomy of parallel discourses, her presentation traced the question of ambiguities and potentials within either type of discursive 'enshrinement', with a particular emphasis on stories bridging the ethnic divides and individualising responsibility in the site literature emanating from the nationalist shrines and their statues.
Stephanie will ALSO present her on-going BU research collaborations, which expand on the topic of memories and commemoration, at BU's Interdisciplinary Week (Tuesday, 12 May, 4:30 pm KG01). Together with Avital Biran (an expert in 'dark' tourism); Melanie Klinkner (transitional justice); and Feng Tian ('serious gaming' technology) she will explore ways in which memorials may be helpful in Transforming conflict after war: memory, heritage and digital media.
 Places can be booked at https://research.bournemouth.ac.uk/interdisciplinary-research-week-2015/tuesday-12-may/.
Congratulations on both accounts,
Prof. Edwin van Teijlingen