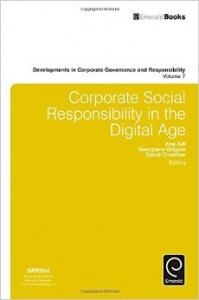 Dr Georgiana Grigore was part of the editorial team for the recently published Emerald book 'Corporate Social Responsibility in the Digital Age'.
With social and digital media reshaping the way in which business is conducted, and with the number of corporations embracing the new social medium for their marketing and communication programmes, this book re-examines corporate social responsibility practice and theory from a digital perspective. In doing so, it revisits some of the theoretical discussions about CSR while inquiring whether and how CSR can be applied and used online.
This book examines key conceptual insights about CSR and digital platforms, and explores the practices of online CSR. In this way, the edited collection explores the impact and influence of the new 'social' on responsibility and its feasibility, measurability and success in a boundary-less world.