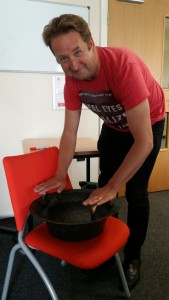 We had a very enjoyable and engaging BRAD session yesterday with Steve Dorney the Principal Public Engagement Fellow at the University of Southampton.
Here we have our Adrian Butterworth from the Faculty of Media and Communication demonstrating one of the many unusual items Steve brought in as an idea to possibly provoke, encourage engagement and participation with the public which did it's job with us too – we became a little obsessed with making the bowl resonate causing a sound and the water to leap and dance.
As mentioned previously Steve Dorney is on Southampton's Engaged University Steering Group and his activities extend  to impact enhancement, student employability and outreach, as well as core support for Public Engagement with Research (PER) via a dedicated support unit www.soton.ac.uk/per .
He co-ordinates the Bringing Research to Life Roadshow www.soton.ac.uk/roadshow and through this has collaborated previously with BU on public engagement activities.
Steve led this workshop on how to make the most of public engagement, a key part of demonstrating the impact of your research and we covered:
An overview of the PER agenda in the UK and internationallyExamples of effective PER from various disciplines
Practical 'top tips' from Steve's experiences in public engagement
Why do public engagement – what's in it for researchers?
Strategies for presenting your research to public audiences
How to build public engagement into your research planning
Costing and funding public engagement activities
Opportunities for collaboration
Evaluating public engagement
Public engagement, REF 2014, REF 2020 and Impact Case Studies
Opportunities to get your public engagement noticed, i.e. awards etc.
Missed this session and would like to be notified when we possibly run it again please send an email to me dgoodman@bournemouth.ac.uk
Also it is not too late to book into one of our last 2 BRAD sessions being held on the Monday the 6th of July see below: