Earlier this year I had the opportunity to enrol on the Grants Academy, working to develop a draft proposal for what would be my first research study at BU. Having been taught the art of 'craftsmanship', 'free writing', and then developing the proposal(s) over time, allowed me to reflect upon and begin realising my research idea. This led to a cross-faculty research partnership and a Grants Academy Small Grant award, to fund a preliminary study to determine whether leg position influences the effects of an electrostimulation device used to prevent deep-vein thrombosis. The pilot study aimed to monitor leg muscle activity and balance ability in healthy, older adults, to provide a foundation for the future study focusing on post-operative, older adults. Not only did the Grants Academy develop my proposal writing skills and an understanding of research funding acquisition, but also supported me to establish my research profile at BU. Shortly after the internal-award, I applied for the Undergraduate Research Assistant (URA) scheme, which would allow me to supervise a student for six weeks during the research study. The project was successful in supporting a URA, who sadly finished earlier this month.
Once a URA myself (albeit at Manchester Metropolitan University), I felt was it important to involve the assistant throughout the research process, including: protocol design, recruitment, laboratory testing, as well as data collection, archiving and early analysis. The URA proved to be mature, diligent and self-motivated, and also a great laboratory partner. After an induction week, she quickly familiarised herself with the lab equipment and was soon able to contribute to refining the study protocol. Partly due to her enthusiasm, partly due to Grants Academy funding, the URA worked hard: achieving NHS Good Clinical Practice training, co-presenting findings at Festival of Learning (Research Reflections event) and co-authoring the study protocol for Clinical Trial Register recognition. She also worked closely with academics from the Faculty of Management, and Faculty of Health and Social Care. Based on the URA's performance and commitment, my co-investigator and I have invited her to continue working on the project to disseminate the study findings (with conference abstracts and two articles in preparation).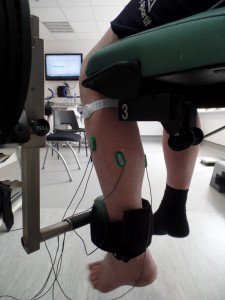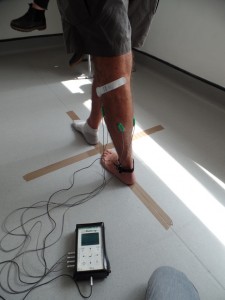 Early data suggests healthy, older adults benefit more from electrostimulation with the leg bent (seated position), than having the leg straight (typical hospital-administered, lying position). These findings will provide the basis for the future study examining the impact of leg position in clinical patients recovering from surgery. So thanks to Grants Academy, BU and my URA, I've been able to establish a sustainable, cross-faculty research plan that will promote co-creation and co-production with students, end-users and research partners into the future. Regardless of where you are in your career, Grants Academy and the URA Scheme offer boundless opportunities for professional and personal development – much recommended!
Lecturer (Exercise Physiology)
Department of Sport and Physical Activity
Faculty of Management