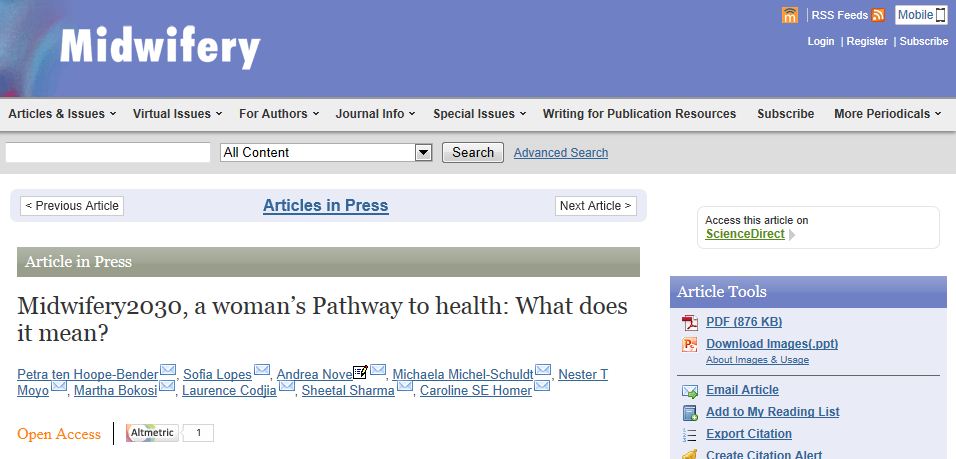 Ms. Sheetal Sharma, PhD student in FHSS, published her latest paper in Midwifery (Elsevier) this week. This latest paper 'Midwifery2030, a woman's Pathway to health: What does it mean?' is co-authored by a number of illustious midwifery researchers. The 2014 State of the World's Midwifery report included a new framework for the provision of womancentred sexual, reproductive, maternal, newborn and adolescent health care, known as the Midwifery2030 Pathway. The Pathway was designed to apply in all settings (high-, middle- and low income countries, and in any type of health system). This paper describes the process of developing the Midwifery2030 Pathway and explain the meaning of its different components, with a view to assisting countries with its implementation.
Sheetal is currently in her final year of a PhD on the evaluation of the impact of a maternity care intervention in Nepal.
Congratulations!!
Prof. Edwin van Teijlingen, Dr. Catherine Angell & Prof. Vanora Hundley (all CMMPH)
&
Visiting Faculty Prof. Padam Simkhada (based at Liverpool John Moores University).
Reference:
ten Hoope-Bender, P. Lopes, S., Nove, A., Michel-Schuldt, M.,  Moyo, NT, Bokosi, M., Codjia, L.,  Sharma, S., Homer, CSE. (2015) Midwifery2013, a woman's Pathway to health: What does it mean? Midwifery