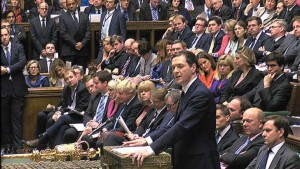 On Wednesday the government outlined their plans for spending over the next five years in the Comprehensive Spending Review (CSR) and Autumn Statement. The main points in relation to research and KE are:
Research councils:
The Nurse Review recommendations will be implemented (see an overview of the recommendations here).
Subject to legislation, the government will introduce a new body – Research UK – which will work across the seven Research Councils.
Innovate UK with remain and will be integrated into Research UK.
Budget:
The BIS budget will be cut by 17% (£2.2bn).
The science budget will be protected in real terms.
This includes a new £1.5 billion Global Challenges fund to ensure UK science takes the lead in addressing the problems faced by developing countries whilst developing our ability to deliver cutting-edge research
Research Excellence Framework:
The government will take forward a review of the Research Excellence Framework in order to examine how to simplify and strengthen funding on the basis of excellence, and will set out further details shortly.
Funding, priorities and investments:
Health and social care:
£5bn more to be invested in Health Research, key priorities being the genomes project, anti-microbial resistance and tackling malaria.
£600m additional funding will be available for mental health.
£150m will be invested in launching a competition for a Dementia Institute with the remit of tackling the progression of the disease.
Women's Health charities/sector will be invested in, as will military charities.
Science and technology:
£1bn will be invested in energy research, with a key priority being the reduction in costs of low carbon energy.
Defence budget will be increased from £34bn to £40bn – emphasis will be on new equipment, capabilities and fighting cybercrime.
Investment in a new Cyber Innovation Centre in Cheltenham to supporting cyber excellence across south west.
Arts, sports and culture:
Arts and culture budget will be protected and £1bn will be invested.
The Arts Council will be invested in.
Funding in UK Sport will be increased in run up to the Olympic Games in Rio.
Knowledge exchange / enterprise:
£12bn invested in local growth fund.
26 Enterprise Zones to be created including 15 in towns and rural areas. Two new zones are planned for the south west region.
Innovate UK will remain but based on a grant system with £165m in loans will be on offer. It will be integrated into Research UK (overarching body of the Research Councils).
Funding to Catapult Centres will increase.