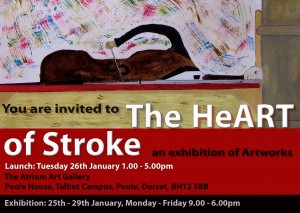 The HeART of Stroke study is a feasibility study related to the use of  art and health groups with people following a stroke funded by the National Institute for Health Research (NIHR).  Please click here for more information about the study.
The study is coming to an end and we are in the wonderful position of being able to share participants' artwork. We would like to invite you to an exhibition of artwork created during the HeART of Stroke study. It will be held the week of 25th-29th January 2016. The exhibition will be staffed by members of the research team at all times.
It will be held at
The Atrium Art Gallery
Poole House
Talbot Campus
Poole Dorset
BH12 5BB
The Atrium Gallery Talbot Campus opening times are 9.00 am – 6.00 pm.
For further details please contact Mary Grant  e-mail:  grantm@bournemouth.ac.uk