Cafe Sci runs every first Tuesday of the Month from 7.30pm – 9pm and takes place at Cafe Boscanova in Boscombe.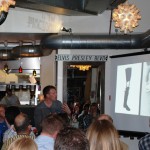 You can find out more about Cafe Sci here: https://cafescibournemouth.wordpress.com/
We are looking for BU Academics, Researchers, PGR students and URA students to present a Lightning Talk on their Research as part of Cafe Scientifique on Tuesday 5th April.
What is a Lightning Talk; In essence it is a short, to the point talk on a particular subject.
If you are interested in taking part in this event and sharing your research in an enganing and lively manner then please contact Rhyannan Hurst in RKEO on 61511