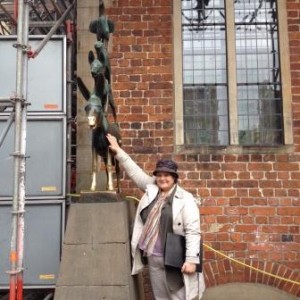 I have just returned from a 2 week Erasmus professional staff mobility to Bremen University's "International Staff Week" and special admin training with the local coordinator of the Erasmus Mundus Fusion Project which we host at Bournemouth and where I work as a Project Administrator.  It was an enjoyable and successful experience. It was an unusual type of mobility, which has been supported by the FIF Erasmus Fund throughout.
University of Bremen is similar to BU. It is a new University, but unlike Bournemouth University, it was built from scratch in the 1970s with a number of faculties and departments not unlike those at Bournemouth University today. Together with the newly built academic facilities a center for Technology and Innovation was established. Through this center a number of German and international industrial, tech and high tech companies and start-ups set up business which have grown over the decades.
Today this industrial environment provides practicums, placements and acts as source of third party funding and in research collaborations of which many involve international research guests. Bremen is a small university, thus needs to use its expertise as one of the most success German universities to finance their work via third party funding and international collaborations.
With 20 000 students (slightly more than BU) and an equivalent percentage of science and international students as Bournemouth University, Bremen follows a strategy of internationalisation and globalization not dissimilar to BU 2020. Administrating new collaborations are at the heart of many administrative arrangements and skill developments at university level. The International Office follows a "special care" professional development program annually, "The International Staff Week" for Erasmus and International services staff organised by Barbara Hasenmüller, its Deputy Director and Coordinator for EU-Higher Education Programs.

The International Staff week is also open for colleagues and guests from Erasmus partner Universities across Europe. Language issues were not a problem. Whenever a challenge occurred, a colleague who spoke the language was called and assisted in the generally warm and interesting exchange of practice and discussions of job related issues. This enabled a comfortable atmosphere for all participants.
I was invited to join this year's 'International Staff Week' by Dr Ingrid Rügge who is the local coordinator of the Erasmus Mundus Fusion project which BU hosts at the University of Bremen. I  benefited greatly from many work shadowing sessions, presentations, meetings, structured discussions with other involved colleagues and best practice exchange relevant to my role, which among others included:
financial administration and grant provision,
application and admission processes for international students from all projects spectrum,
accreditation procedures and arrangements, ECTs, Certificates,
status of guest students and researchers for incoming guests and students,
provision and services for outgoing Erasmus+ and Erasmus Mundus students and staff intending to go abroad,
an outlook into admin, legal and procedure changes of Erasmus+ to Erasmus 2020 transition processes were also part of discussions and a presentation by colleagues.
During this time and the intensive Fusion project week that followed I was based at Dr. Ingrid Rügge's office and provided with a desk to work for my job as project admin at BU.
She had just completed a staff mobility of the Erasmus Mundus Fusion Project herself to Bhutan's Royal University, also a Fusion consortium partner. (For information about  Dr. Rügge at her Research Cluster "Log Dynamics"  please click for an overview of their activities http://www.logdynamics.de).
The multidisciplinary research cluster of 4 Applied Science departments host the Erasmus Mundus Fusion projects at University of Bremen and are active in collaborative projects with a number of Universities from the projects I am involved in.
Every day meetings were arranged with colleagues I was familiar with from email contact. There were also colleagues in wider EM Fusion activities and the directors' office who indicated their interest in further cooperation with BU.
In "Log Dynamics" I finally met four of the current Erasmus Mundus grantees in person, who I only knew from data during the application process and who are now studying computer sciences, electronics and KTI projects during their mobility. We discussed features of their student experience, how they think they will benefit and what they would like to modify or suggestions they had in preparation of a wider project evaluation effort.
Dr. Rügge suggested an ongoing link strengthen the work of both Erasmus Mundus Fusion project partners in Bremen and Bournemouth and for the benefit of the involved project consortium.
As previously indicated the entire mobility was financed by FIF Erasmus and Internationals fund for which I would like to thank the colleagues who supported me during the application process.
Enquries to Karin Ermert  kermert@bournemouth.ac.uk