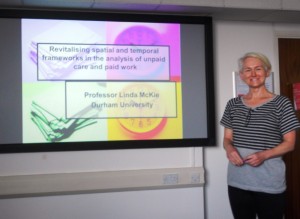 Prof. Linda McKie who is professor of Sociology at Durham University gave an excellent paper today in FHSS on Revitalising Spatial and Temporal Frameworks in the Analysis of Unpaid Care and Paid Work.  Her paper highlighted that published data have documented the persistence of the gender pay gap for all women with evidence of a deepening gap following maternity leave. These data generated numerous analyses on segregation and discrimination in education and working life and the many ways in which unpaid care for children, family members and elders remains a dominant factor in everyday gendered inequalities. Often little comment was made on women's crucial role in reproducing generations many of whom will fund future pensions and services through their taxation. These intergenerational reciprocities are generally ignored in favour of the immediate time considerations for employers, workers and families with the need to generate profit, or income and resources for household or business survival.
In her seminar Prof. McKie revisited the analytical frameworks of 'caringscapes' and 'carescapes'. In earlier work, it was asserted that both offer analytical potential to enhance analyses of the temporal and spatial dynamics of caring and working over the lifecourse in different places. Caring, critical to human flourishing and evident in many aspects of women's lives, is captured in 'caringscapes'. The framework of 'carescapes' explores the relationship between policies and services as determined by employers, the state and capital. Both frameworks are informed by feminist theorising and spatial and temporal perspectives on identifying and analysing how women perceive, engage with, and reflect on, the demands and pleasures of combining informal caring and paid work.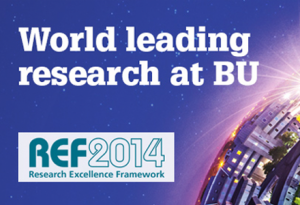 Yesterday Prof. McKie led a well-attended workshop for FHSS staff on preparing for the REF.  She offered insight into various REF processes as well advise on strategic planning and the importance of networking.   Prof. McKie has been a sub-panel member of the Research Excellence Framework 2014 (REF) Sub-panel 23: Sociology for the period 2010-2014.
Prof.  Edwin van Teijlingen
CMMPH