Last month's press release for the latest study in the Centre for Midwifery, Maternal & Perinatal Health (CMMPH) was picked up by the Journal of Family Health.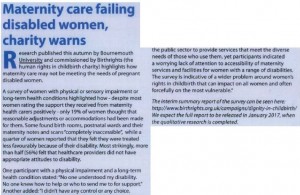 The study 'Human rights and dignities: Experience of disabled women during pregnancy, childbirth and early parenting' appeared under the heading 'Maternity care failing disabled women, charity warns' in the Journal of Family Health.  The charity in question is Birthrights which funded the survey of women with physical or sensory impairment or long-term health conditions and their maternity care experiences.  The research was conducted by midwifery researchers Jenny Hall, Jillian Ireland and Vanora Hundley at Bournemouth University and occupational therapist Bethan Collins, at the University of Liverpool.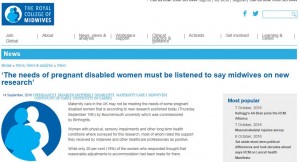 Last month this important study had already been reported by the Royal College of Midwives (RCM) on their webpages (click here to read more).  On the RCM website  Louise Silverton Director for Midwifery at the RCM said: "It is deeply disappointing to hear that women with disabilities are not getting the maternity care they need and deserve. Although this is only a small survey, it does provide a very valuable insight into the realties of the care these women have received while pregnant.  The RCM believes that maternity services should treat disabled women like every other woman, while ensuring that the care provided does not ignore or overreact to their specific wishes and aspirations."
Congratulations!
Prof. Edwin van Teijlingen
CMMPH