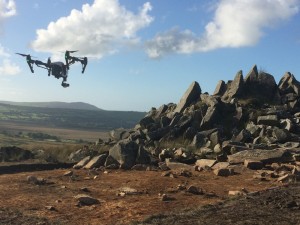 BU's inaugural lecture series returns this autumn, with a taste of the past.  Advances in technology are making a difference to all areas of our lives – even to how we understand our history. The use of technology in archaeology has been revolutionary, not just in the kinds of equipment that can be used, but also that so much can now be used in the field, giving almost instant analysis.
Bournemouth University's Professor Kate Welham is an expert in archaeological sciences, with a particular focus on remote sensing techniques. Her work has taken her to sites all over the world – from Tanzania and Spain to Easter Island and closer to home – Glastonbury Abbey. Over the course of her career, she has seen the field of archaeology change and grow immeasurably.
Kate's lecture will share stories of her fieldwork experiences across the world, the way technology has revolutionised the way archaeologists work and how she has involved BU students in her research. There will also be an opportunity before and after the lecture to meet some of BU's current archaeology students and see some of the equipment used by BU's archaeologists out in the field.
Bournemouth University's Inaugural Lecture Series aims to celebrate new professorial appointments and the depth and breadth of research produced by the university. For further information on the Inaugural Lecture Series please visit www.bournemouth.ac.uk/public-lecture-series
About the event
To book your free ticket, click here.
Venue: The Fusion Building on Talbot Campus.
Date: Tuesday 1 November.
Time: 6:30pm for a 7:30pm lecture start.
Please do arrive early as there will be an opportunity to see and handle some of the equipment used by the Department of Archaeology, Anthropology & Forensic Science.
Refreshments will be provided at the event.
Parking is available for free on campus.
For more information about the event, please contact Rachel Bowen at rbowen@bournemouth.ac.uk.