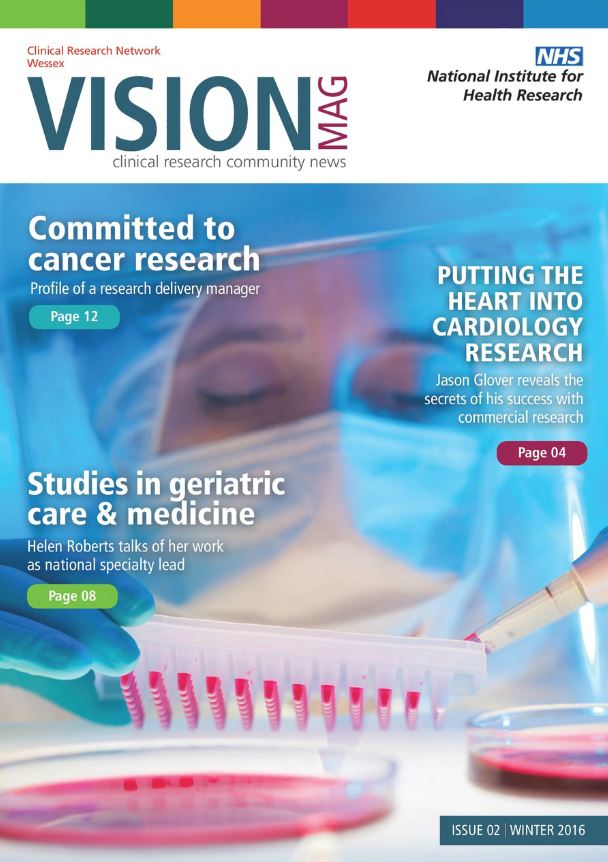 Some of BU's dementia research has been featured in Vision magazine, which highlights clinical research news from the Wessex region.  The article demonstrates BU's person-centred approach to dementia research, showing how different teams are working to improve the quality of life people with dementia.
Professor Jane Murphy and Lecturer Joanne Holmes have been working with local Dorset care homes to develop a better understanding of nutrition for people with dementia.  The team discovered that people with dementia often weren't eating enough to meet their daily energy requirements.  The reasons behind this are diverse – some people face physical difficulties with chewing and swallowing, while others may struggle to identify when they feel thirsty or hungry, or find it hard to remember when they last ate.  By working together local care homes, the team were able to develop training resources to help care staff improve their knowledge of nutrition.  The resources also provide a wealth of ideas and tips for supporting people with dementia to eat and drink well.
Professor Jan Wiener and his team are exploring how to improve building design to help people with dementia.  People with dementia often struggle with navigating around unfamiliar environments, which can become a particular problem if they move to a care home as the disease progresses.  The team use a variety of different methods including eye-tracking technology, virtual reality technology and behavioural navigation experiments.  Their aim is to use the results of their research to improve dementia friendly design guidance.
Dr Samuel Nyman has been funded for three years by the National Institute for Health Research (NIHR) to explore the benefits of Tai Chi for people with dementia.  The study he is leading is looking to identify any benefits with a particular focus on seeing whether Tai Chi can help to improve people's balance, and therefore reduce the risk of falls.
To find out more about their research, do read the full magazine article.