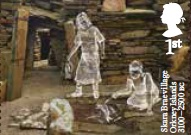 Royal Mail is celebrating Britain's prehistory with the release on 17 January 2017 of a set of eight commemorative stamps accompanied by presentation materials written by BU's Professor Timothy Darvill. Four stamps feature well-known prehistoric sites: Skara Brae village in Orkney (3000-2500BC); Avebury henge and stone circles in Wiltshire (c.2500 BC); Grime's Graves flint mines in Norfolk (c.2500 BC); and Maiden Castle hillfort in Dorset (c.400BC). The other four stamps feature spectacular prehistoric objects: an antler headdress from Star Carr in North Yorkshire (9000BC); the gold cape from Mold in Flintshire (c.1900-1600BC); bronze horns from Drumbest in County Antrim (800BC); and the richly decorated bronze shield from the Thames at Battersea in London (350-50BC). Designed by True North and illustrated by Rebecca Strickson all the images combine aspects of original use with how the sites and objects appear today.
The presentation pack includes an illustrated summary of Britain's prehistoric past, while the information card accompanying first-day covers and souvenir sets provides brief descriptions of the sites and objects featured on the stamps. Handstamps on first-day covers show a flint arrowhead on the standard cancellation from Edinburgh, and a distinctive archaeological trowel as an alternative postmark linked with Avebury near Marlborough.
Individual stamps can be purchased from Post Offices across the UK, while presentation packs and souvenir issues can be obtained from the Royal Mail on-line shop.