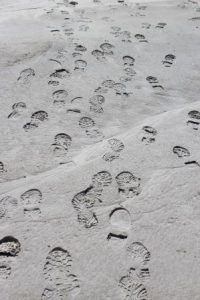 "Within our lives we leave thousands of individual footprints – in the snow, on the beach, in the park and sometimes even muddy prints on the kitchen floor!  Tracks are more numerous than any other form of trace evidence, and record a unique snap shot in time about the track-maker.  Not only do they record details of the shoes worn, but information about our body mass, style of walking and the specific wear on the soles of our shoes that record information about the history of our footfall.  Reading these clues digitally provides an important forensic tools and HEIF-funded BU research (www.DigTrace.co.uk) in this area is shaping forensic practice both in the UK and overseas. "
This was the abstract submitted to accompany Professor Matthew Bennett's  recent submission to the Research Photography Competition.
This is the first image to go live on the new Instagram account for HEIF. What not follow to find out more obout the exciting innovations projects past and present at BU.
It can be found here: https://www.instagram.com/heif_at_bu/