People with dementia often find it more difficult to understand and navigate built environments. Dementia-friendly environments compensate for impairments to maximise independence and quality of life. Within the Ageing and Dementia Research Centre (ADRC) a team of academics are conducting research into the design of supportive dementia-friendly environments. This research builds on over 10 years of research by Prof Jan Wiener and is currently supported by a two year ESRC grant which support a Post-Doctoral Research Fellow and several PhD Students.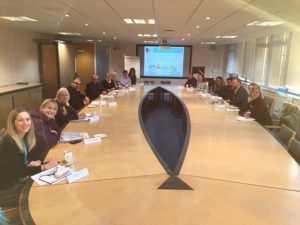 A key output of the research is to create empirically validated design guidelines that support effective way finding in people with Alzheimer's Disease. These principles are widely applicable to many stakeholders including architects, building standards agencies and care commissioning bodies to ensure that they are used to develop national standards for residential care home design. Our Advisory Board who met for the first time in January 2017, is therefore formed of invited stakeholders from organisations that span these diverse disciplines: Dr Moamer Gashoot, BU; Sian Gregory, Sunrise; Alexandra Ledger, Bright Bay Design Limited; Jo Malyon, Alzheimer's Society; Graham Parkes, Quantum Group; Stephen Pennington, QP Architecture; Lynne Petty, Sunrise; Becky Robson, Quantum Group; Sue Slater, First Port Retirement Property Services; Alice Stevens Arts Univeristy Bournemouth; and Susan Wiffen, BUPA. These invited stakeholder join internal colleagues who represent the ADRC: Dr Jan Wiener (Chair), Dr Ramona Grzeschik, Dr Michelle Heward, Christopher Hilton, Mary O'Malley, Denise Carroll and Michelle O'Brien.
The aim of our research is to help increase or preserve the independence and well-being of people with dementia, avoiding a further loss of autonomy, dignity and control that is, in theory, preventable. The Advisory Board will meet again in May and we look forward to the discussions at our next meeting!