We are pleased to announce the publication of a new book entitled:
'Social Media and Politics in Central and Eastern Europe'
Edited by
Paweł Surowiec and Václav Štetka
for Routledge Series on Russian and East European Studies
About the Book
Social media are increasingly revolutionising the ways in which political communication works, and their importance for engaging citizens in politics and public affairs is well understood by political actors. This book surveys current developments in social media and politics in a range of Central and Eastern European countries, including Ukraine and Russia. It explores the process of adoption of social media by politicians, journalists and civic activists, examines the impact of the different social and cultural backgrounds of the countries studied, and discusses specific political situations, such as the 2012 protests in Moscow and the 2014 EuroMaidan events in Ukraine, where social media played an important role. The book concludes by addressing how the relationship between social media and politics is likely to develop and how it might affect the still relatively new democracies in the region.
Table of Contents
Foreword Darren Lilleker
Introduction: social media, politics and democracy in the post-transition Central and Eastern Europe Paweł Surowiec and Václav Štetka
Part I:  Political parties, actors and social media
Chapter 1: Who is afraid of the platforms? Adoption and strategies of use of social media by politicians in the Czech Republic Alena Macková, Václav Štětka, Jan Zápotocký, Radim Hladík
Chapter 2: Presidential elections campaining in Romania: connecting with civic-ness on Facebook Monica Pătruţ
Chapter 3: Towards self-mediatization of politics: representatives' use of Facebook and Twitter in Croatia and Hungary Norbert Merkovity
Chapter 4: Political use of social media and personalisation of political communication in Slovenia, Tomaž Deželan, Alem Maksuti and Jernej Amon Prodnik
Chapter 5: Professionalization and intentional disengagement: Facebook campaigning in the local Bulgarian elections in 2015 Ognyan Seizov
Part II: Social movements, interest and professional groups and social Media
Chapter 6: We have been to Bolotnaya: Russian protests, the online public sphere and the discourse of division Alina Ryabovolova
Chapter 7: The networked public sphere and Ukrainian journalists Dmytro Hubenko and Melissa Wall
Chapter 8: Branding Poland online: propagating and resisting nation branding on Facebook Paweł Surowiec and Magdalena Kania Lundholm
Chapter 9: The dilemmas of social media-enabled civic activism: the case of sexual minorities in Lithunia Galina Miazhevich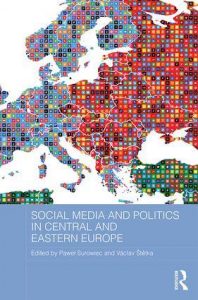 Conclusions Václav Štetka and Paweł Surowiec
About the Editors
Paweł Surowiec is Senior Lecturer in the Faculty of Media and Communication at Bournemouth University.
Václav Štetka is Lecturer in the Department of Social Sciences at Loughborough University.
The Book Site:
https://www.routledge.com/Social-Media-and-Politics-in-Central-and-Eastern-Europe/Surowiec-Stetka/p/book/9781138100824
Contact Details:
Paweł Surowiec – psurowiec@bournemouth.ac.uk
Václav Štětka – v.stetka@lboro.ac.uk