Two major conferences held in Los Angeles in the middle of summer were attended by a small group from the National Centre for Computer Animation (NCCA) of the Faculty of Media and Communication. The group included Dr Valery Adzhiev and two students Quentin Corker-Marin (the course Computer Visualisation and Animation – CVA, Level 6) and Phil Gifford (the course Software Development in Animation, Games and Effects – SDAGE, Level 6).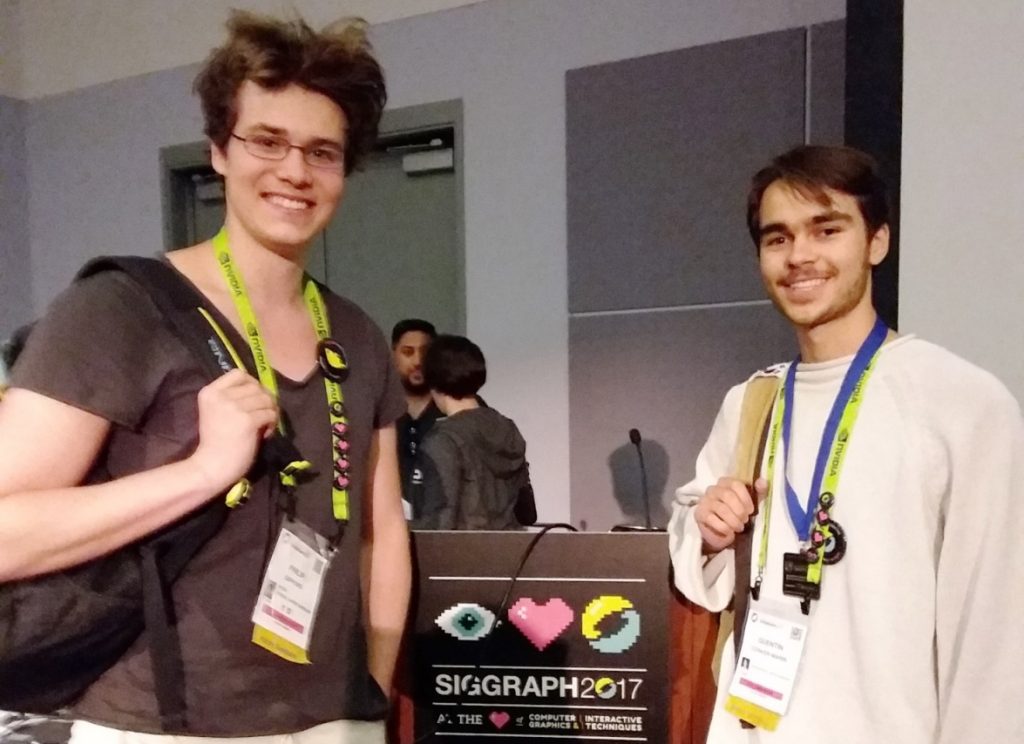 The students were there to present two posters at SIGGRAPH 2017 conference: "Space-Time Cubification of Artistic Shapes" by Quentin Corker-Marin (co-authors and supervisors Dr Valery Adzhiev and Prof Alexander Pasko) and "Interactive Parameterised Heterogeneous 3D Modelling with Signed Distance Fields" by Teemu Lindborg and Philip Gifford (co-author and supervisor Dr Oleg Fryazinov). Another paper "Cubification and Animation of Artistic Shapes" by Q. Corker-Marin, V. Adzhiev and A. Pasko was presented at the ACM SIGGRAPH / Eurographics Symposium on Computer Animation (SCA 2017) that took place at UCLA just before SIGGRAPH.
These were very different conferences. ACM SIGGRAPH / Eurographics Symposium on Computer Animation Symposium is a rather small-scale event (about 120 attenders) which has a reputation of a leading venue for R&D in Computer Animation. SIGGRAPH 2017 is the world's leading annual interdisciplinary event showcasing the latest in computer graphics and interactive techniques. As usual, that was a huge endeavour with 20+ thousands attenders from 88 countries (including a real giraffe named Tiny who made two appearances as part of an animal drawing workshop), over 600 papers, courses, lectures, panels, installations, artworks, Animation Festival, VR theatre, Exhibition, etc. (all that selected from nearly 2,000 submissions from all around the world) and giving a platform to more than 1,800 speakers and contributors.
The official purpose of the SIGGRAPH Posters is "presenting novel research, art, and ideas to the global computer graphics community based on recently completed work or tentative new approaches" (official video). Note that is not "a student event" – quite a few established academics submit their work to it because it provides a lot of exposure (in particular, in terms of an immediate contact of the authors with attenders, and a lot of real experts are among them), although it has long been especially popular with PhD students who could test their ideas there. UG students' submissions are accepted not often at all. All the submissions (many hundreds of them from all over the world) have been peer-reviewed and eventually 87 posters were accepted and published in the ACM Digital Library. The "cubist" poster had also been selected (as one of only ten) for presentation in the official "SIGGRAPH 2017 – Posters Preview" video that had been widely shown before and during the event.
The students have also participated in the prestigious ACM Student Research Competition (SRC) sponsored by Microsoft. The result was a significant success: first, both posters were selected by "a panel of distinguished judges" (chaired by Deborah Fowler, Professor in the Visual Effects department, at Savannah College of Art and Design, US) as semi-finalists (just seven in UG category); then during the Posters sessions the judges talked to each of those semi-finalists (Phil and Quentin in our case) who had to answer their questions. Three UG students (Quentin among them) were invited into the SRC Final that was scheduled as a regular conference event to make a proper (conference-style) presentation in front of the Jury and the audience. Quentin was awarded with the second place (got the medal and the prize money) which can only be considered as an outstanding achievement.
A detailed report by Dr Valery Adzhiev can be downloaded from here. It includes author's reflections on a much debated topic of involvement of UG students into research with a detailed description of how the project "Cubist Dynamic Sculpting" had been conducted and what was the specifics of cooperation of established researchers specialised in Computer Science with the student with mainly artistic background. The text also includes a detailed diary written by Quentin Corker-Marin with his impressions about the trip to Los Angeles.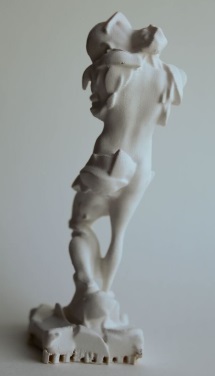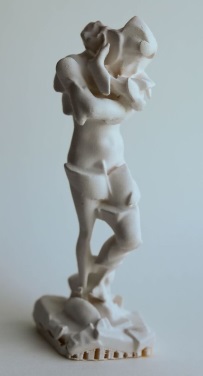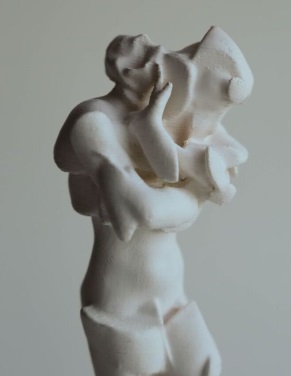 By Dr Valery Adzhiev, Principal Academic, NCCA, FMC