Bournemouth University is closely involved the international conference organised by HISSAN in Kathmandu this week.  HISSAN is the overarching organisation of over 1,100 independent higher education colleges and secondary schools in Nepal. Together with 16 education partners from Nepal and abroad HISSAN runs the first ever International Conference on Quality Education in Federal Nepal to help build the future education system in the new federation. The conference will be held in Kathmandu on 22-23 February this week.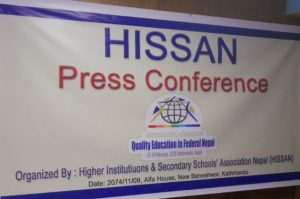 This is a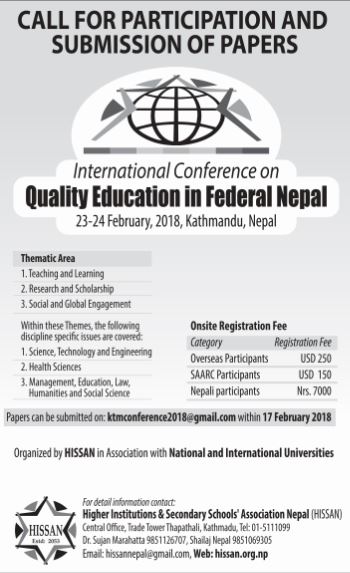 broad-spectrum education conference bringing together delegates from colleges and universities who represent a wide-range of disciplines taught at colleges across Nepal, from Computing to Management and from Engineering to Public Health.
Our intention is that delegates from Nepal can discuss and learn from education innovations in their own country as well as from abroad. There will 31 interesting sessions over two days, including some exciting plenary presentations.
Speakers are from different academic disciplines representing views from Management Studies, Education, Public Health, Law, Nursing, Disability Studies, Engineering, Disaster Management, Human Rights Research, Ageing, Road Safety Research and Science & Technology.
Many different countries are represented at the conference. Apart from papers on Nepal, there will be presentations or speakers from China, India, Bangladesh, the UK, Israel, Vietnam, the USA, and Sweden.
Different speakers will be addressing various aspects of education and education development, including Prof. Stephen Tee from Bournemouth University. He will be addressing the question: 'What Can Nepal Learn from the Latest UK Technology-Enhanced Teaching Learning?'    Other interesting contributions in the programme, that caught my eye, include Prof. V. G. Hegde from the Faculty of Legal Studies at the South Asian University in Delhi (India) who will be presenting a paper called 'Implementation of Right to Education in a Federal Context: Lessons from India and Nepal.'  And also the paper by Prof. Qin Jie from the Southwest University of Political Science and Law in Chongqing (China) who will be talking about 'The Chinese Belt and Road Initiative and Higher Education in China.'
Edwin van Teijlingen
CMMPH